Life Lessons (From France)
So, now you know why my year in France is a year that I will never forget and will always hold so dear to my heart.
In 1997 I left Canada a broken, insecure, unfulfilled person and in 1998 I returned a peaceful, confident, and spiritual woman.
It is my greatest honour to pass along some of the wisdom I gained. The life lessons I learned that year have served me every day since then.

I've had ups and I've had downs, but whenever I come back to these lessons, I feel peaceful, aligned, and confident in who I am and why I'm here.
Are you ready to learn them?
Okay!
Here are 5 of the Top Life Lessons I learned in France:
(Psst…for full explanations of the lessons, watch the video above)
How to live a life filled with Peace, Pleasure, Prosperity, JOY and Beauty.
How to connect with one's own Divine Nature and how to allow that essence to be so fully YOU that you GLOW and touch other people's lives with that glow. Shortly after returning from France I was walking in a Health Food Store and a woman stopped abruptly in front of me and said loudly, "WHOAH! YOU ARE GLOWING! You are actually GLOWING!" I just smile when I hear this now because I know it's not me they're seeing and feeling, it's the Divine/Source Energy. This was a wish I had while living in France. I wanted to GLOW like the Buddhist Masters did. And, voila! With time and doing my special daily practise (the one you can find in The 6 Phase Visioning Meditation) I was able to fulfil my wish! And it just keeps getting stronger and stronger as I practise.
How to LIVE your spirituality, not just talk or read about it.
How to know and

LOVE

 yourself intimately, so you never compare yourself with others again.
How to know what your soul desires and how to elegantly manifest it.
Again, these are just SOME of the gorgeous life lessons that France gifted me. The beautiful thing is that much of what I learned has deepened even more since then.
For one, my connection and alignment with Source is something that has deepened to such a level that I consistently receive Divine Downloads for myself and the people I mentor.
I giggle every time I receive an email or comment during a session like this,
"Oh my God, are you psychic? It's like you know me perfectly and we've only just met! 
or
"Oh my God, are you psychic?  I asked to hear these exact words as a sign today!"
This post is the very last post of "The Making of a Spiritual Woman: A Pilgrimage That Began in Paris" series, but it's just the beginning of what the Divine has guided me to share with you.
Please know that if you have found your way here, it's not an accident.  It shows you are ready to receive all of the Elegant Processes and wisdom that I have been guided to share.
If you weren't ready to receive it you wouldn't have been guided here.  So congratulations for being ready!!!
It is my wish and intention, that today is the beginning of your OWN personal pilgrimage. One that takes you on a beautiful journey back HOME, to your Divine Nature – the place where Inner Peace, JOY, Abundance and Beauty resides.
Living from this space allows you to live in Elegant Flow where everything you desire (or something even better) flows elegantly to you, without hard work or huge effort.
So, let's get this journey started, shall we?
Each week I will be sharing wisdom with you on how to be a Spiritual Woman who lives The Elegant Life, so make sure you put a note in your calendar to come back here every Wednesday.
Also, I LOVE connecting with you by reading and responding to your comments and questions, so please do write to me in the comments, okay?
Since I will only be posting once a week now, I invite you to follow me on YouTube, Facebook, and Instagram for even more inspiration and wisdom.
See you next week!
Love,
Erin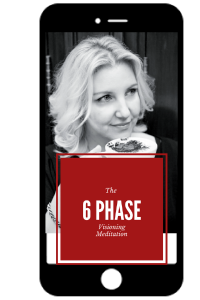 This exquisite meditation will enable you to embody the life you desire. Using this meditation daily will create a powerful vortex for your dreams and desires to enter and become your reality. More importantly though, it will prepare you to be fully ready and open to receive your dreams and desires once they appear. No more sabatoging yourself. THIS life will be your new normal.
ONLY $6.99 <- – Click the image to purchase.
---