Description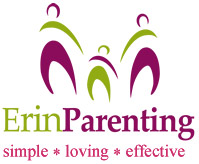 How to Get Your Kids to Listen to You in 4 Simple Steps!

Do You Wish Your Kids Would Listen to You The First

Time You Ask Them to Start or Stop Doing Something?

Do you panic inside when your child misbehaves in front of your guests?

If You Don't Have Time to Read Loads of Parenting Books, Let Me Show You How to Get Your Child to Listen to You… in just 1 day!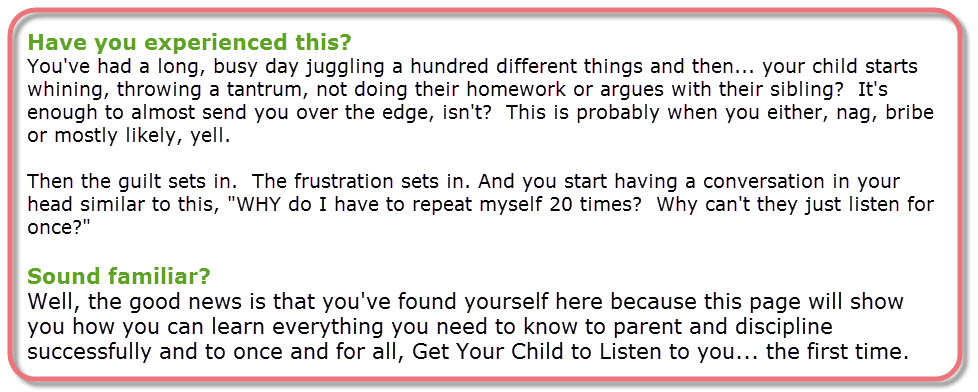 For the first time EVER — I share the EXACT 4 Step Technique that transformed my kids from misbehaving to listening. And I know it can transform yours as well!
Working moms today are busy, tired and overwhelmed with everything on their plate. They are driving their kids back and forth from one activity to the next, trying to squeeze the homework in, and still find ways to spend time together as a family.
Their worlds are so busy with careers, kids and staying on top of the household chores, that there is rarely time for being a wife!
Because of the constant levels of stress, working moms resent coming home and having to deal with annoying behavior issues from their children. They fall into bed at night exhausted only to start the routine all over again the next day.
This type of existence is accepted as the norm in family life today but it doesn't have to be this way.

The good news is that life doesn't have to be this way when you have the right technique, knowledge and support.
Best Deal
Pay-in-full at $127

For a limited time only $97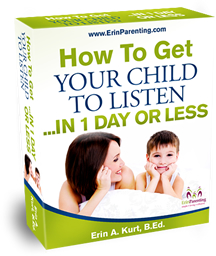 No one ever trained us to be a parent…there is no manual. Oh sure, they have all the classes in the world available on how to give birth and take care of your baby until the age of 12 months; they just forget about helping you out with the other 17 years!
It's obvious that being a great mom is not just about following your instincts or using a tip from this book and a tip from that website. Let's be really honest.
Because I have been busy raising my own two children I have had a policy of only taking on so many clients a year. However, after I started getting publicity in national newspapers, top parenting magazines, blogs and websites as well as doing loads of radio interviews, many working moms were writing to me to say, "Please, I need to learn your Stress-free parenting techniques. I am overwhelmed, I yell, I'm depressed…"
I just couldn't ignore these emails anymore and when I really reflected on my mission, it was to teach my methods to as many parents as possible all over the world. It was time to create something that could be accessible to everyone.
I spent a few weeks doing my "teacher thing" and created, what I believe is the BEST program out there for busy, stressed, or overwhelmed working moms who want to raise happy kids, be a calm, confident and relaxed parent and enjoy their children to the fullest.
I am so excited to share it with you!
In this powerful program, you'll learn:

My simple, loving and VERY effective 4 Step Discipline technique that you can use to stop 90% of all misbehavious

The 3 most common types of discipline and why they DON'T work

What method of discipline you are currently using and how to overcome the urge to continue using it once you've switched to mine

5 sneaky phrases to say to your child that will change their behaviour instantly

How to prevent common parenting problems from happening at all by being proactive (Issues include bedtime, meal time, grocery shopping, homework, dining out, chores, and TV)

How to establish close, emotional bonds with your child so they WANT to listen to you

4 ways to ensure your child feels loved – these are vital when wanting your child to listen to you; when a child receives love these 4 ways, they naturally behave, and listen the first time

My secret to creating calm in the house without even speaking

The powerhouse tool I use to keep me from yelling
Figuring out how to parent effectively each day is tough and making it up as you go is exhausting and ineffective. Raising a responsible and loving child who listens requires more than relying on your instincts, as useful as they can be. Like any job, learning new strategies and skills will increase your effectiveness and enjoyment.
In How to Get Your Child to Listen..in 1 Day or Less, I start by reviewing the 3 most common types of discipline and describe why they DON"T work—but that's just the beginning.
What this program is REALLY about, and the reason I created it and am sharing it now, is to address the nitty gritty of parenting – how to get your child to listen. Full stop. You see…
I know what it feels like to desperately want to have a great relationship with your kids – and enjoy them. Your heart is in the right place, your intentions are good and you just want to have fun with your kids instead of nagging them all the time.
When I was struggling with the students in my class I tried reading books on discipline, asking my old professors, talking to trusted teacher friends outside of the school, and although they all generously offered me tips, that's all they were, TIPS to try.
I became increasingly frustrated because people were saying that a trick worked for them, but it wasn't working for me. Failure after failure I became totally unsure of myself and my capabilities. Plus, all I could think of each day was what I should try next.
Have you ever felt this way?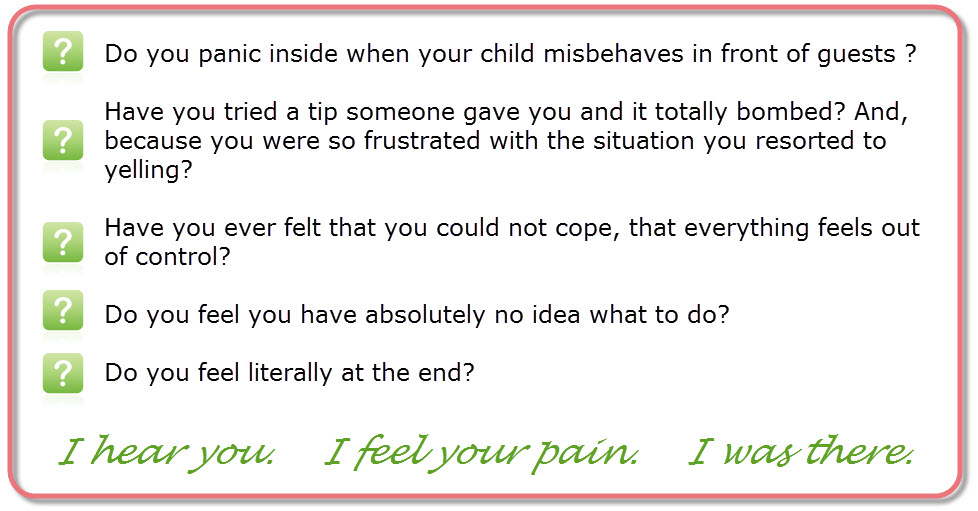 Many parents say, "I just want my child to listen to me." But, when I dig further, it's not just that.
It's that they have a strong desire to share wonderful moments with their child.
To laugh together, to talk together, and to enjoy life with one another.
The problem is that many parents are not experiencing the kind of family life they truly want.
Instead, they are struggling with kids who test, misbehave, shout, whine, throw tantrums and don't listen.
What is the answer then?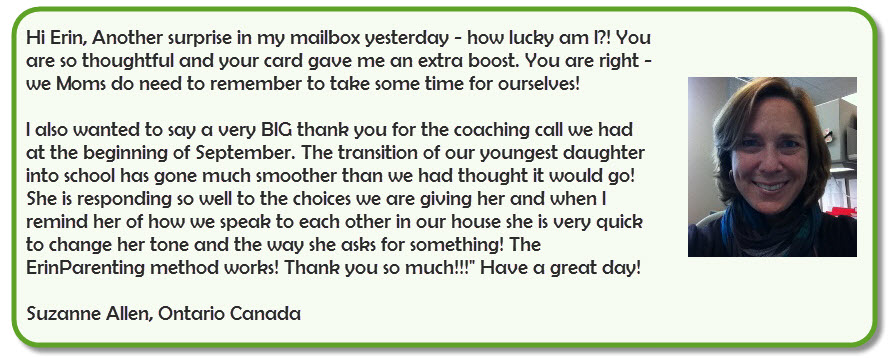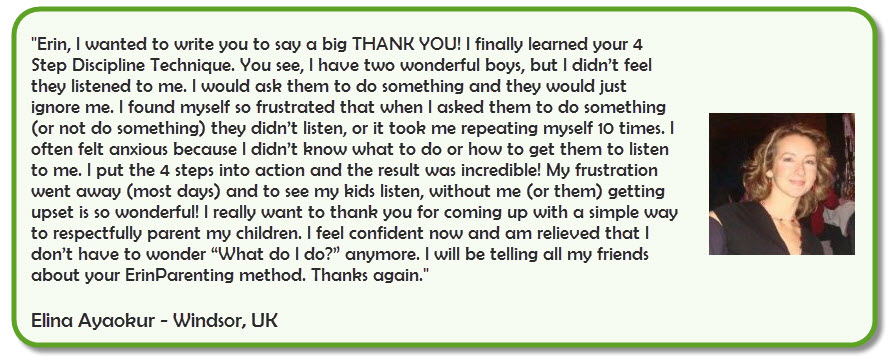 If you are thinking, "Well, this sounds great, but my child is different. Nothing works with him! – Be confident, because my techniques work for EVERYONE.
It really frustrates me when I read information for parents on how to discipline their kids because…
On 98% of the websites or in all the books I've read, the "experts" say that every child is different so you have to use a different method of discipline on each of them. FALSE!
All of the "experts" give 101 tips to try – WHO HAS THE TIME OR ENERGY TO TRY, FAIL, TRY, FAIL, not to mention READ them all?
You have to be a genius or have a PH D. to understand what they're talking about – HONESTLY! There is a program for moms with toddlers that uses such complex words for their strategies that even I couldn't keep things straight!
I believe everyone learns differently, so to help you learn my incredible techniques in the way YOU learn best, you will receive …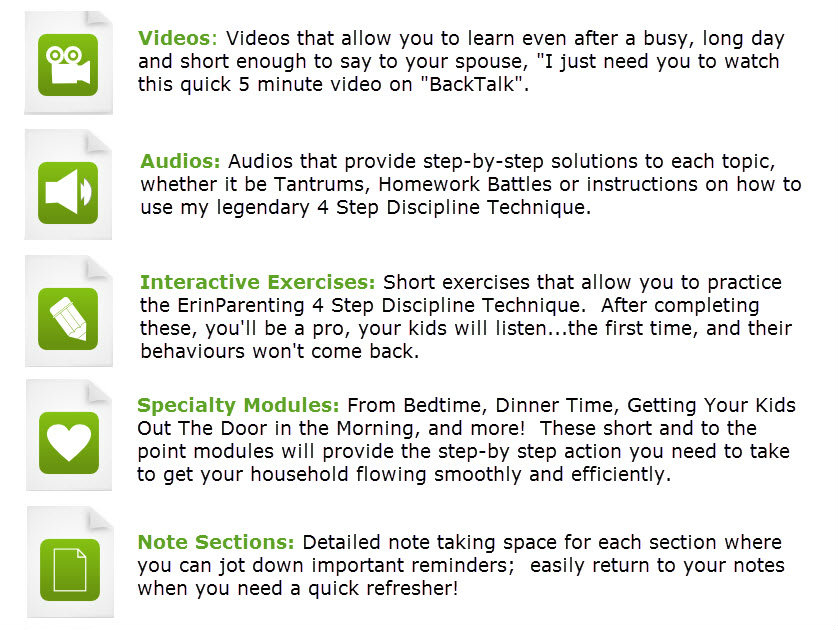 You need to know a regular human being can do this. You need to know that you don't have to be "a genius" to get your kids to listen to you.
I have used this 4 Step Discipline technique to make kids listen while I was a teacher for 17 years, while I was a nanny and now with my own two children – I've used this technique on every single child, no matter …
Their socio-economic status
(I taught kids of multimillionaires to orphans)
What country they lived in
(I taught in 5 different countries at international schools where EVERY nationality congregated)
How old they were
(I used my technique on toddlers to teens, even 6 ft tall teenage boys! keep in mind I am 5'3")
What disability they had
(I used my technique on kids who had learning disabilities, children with hearing aids, children with stutters, lisps, speech issues…
What disorder they had
(Yes, this technique was used with children who had ADD, ADHD, Aspergers, Oppositional Defiant Disorder, Schizophrenia, Tourettes Syndrome, as well as Gifted children)
So, now you can see why it frustrates me that the magazines, books and websites out there make parenting seem stressful, difficult, confusing, and overwhelming. All kids need is clear, concise and consistent discipline…mixed in with love and emotional connection, of course.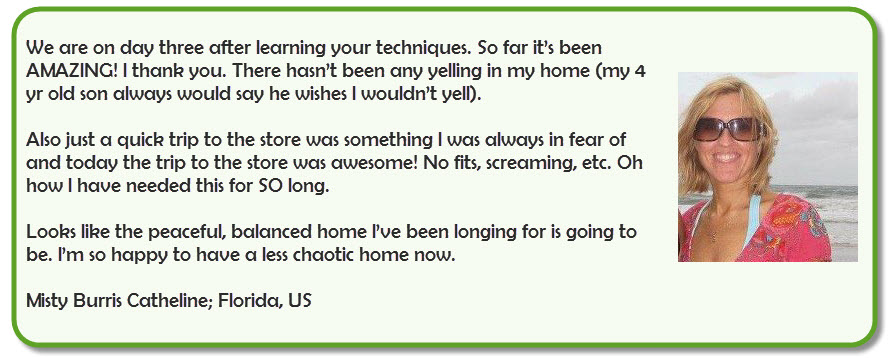 It's not difficult, folks!
It's not your fault that you have felt inadequate at times, stressed, overwhelmed or frustrated – you just haven't been given the right information or the simple training.
Being a Stress-Free parenting expert, I like to keep up to date with the newest books, research, etc. out there and I can guarantee you that NO ONE is teaching what I teach.
There are some very good parenting coaches out there, don't get me wrong. I am impressed with many, however, none of them have broken the complex art of parenting down into a simple, loving, but very effective 4-Step technique like I have.
That was always my gift as a teacher – I was able to take the complex and convey it to my students in the most simple to understand way.
This is a HUGE benefit to you since you are a busy, working mom. You want to be an incredible mom to your child but you just don't have the time or energy to sort through all the information to formulate a winning technique to use with your children.
I've done all the hard work for you
I've gone through the frustration of trial and error
I've shed the tears after feeling inadequate and overwhelmed
Now, the rest is up to you…
How to Tell if This Program is For You: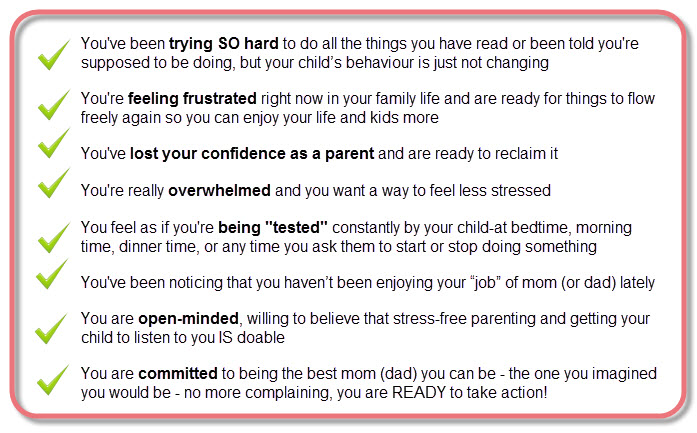 So, won't you join me?
Come learn how to get your child to you listen to you and discover my unique, trademarked 4 Step-Discipline technique for success. (Imagine having the exact words to say for any situation that arises with your child!)

So, are you ready to step into being the relaxed and confident mom you want to be?
How long are you going to continue to do what you're doing and not have it work for you?
Have it suck your energy
Make you feel down on yourself
Feel frustrated
If you are ready to have your kids listen to you the first time you ask them to start or stop doing something and begin enjoying happy and fun moments over and over again with your kids, don't miss out on this special offer!
Let me be your personal coach where I teach you exactly what you need to know to get your kids to listen to you.